Posted in: Gifts, Pearls of Wedding Wisdom, Wedding Planning Gems On: May 28, 2015
For today's wedding inspiration, we are talking gift lists and *Unwrapping The Gift List*
*Sparkle Pearls and Lace* has the guide to wedding gift etiquette:
*The Wedding Gift*
Giving a small gift to the bride and groom has been around for a very long time – it is a way of passing on your congratulations and traditionally the gift was to help the bride and groom start their married life together. In medieval times, baskets were passed round for small offerings. Now things have moved on slightly, but wedding gifts are still very much around, often in the form of a 'Gift List'. However, now there are such an array of options available to suit couples and their style.
*The Gift List: To Have Or Not To Have?*
Having family and friends attending your wedding day is one of life's wonderful gifts and therefore it may seem unnecessary to ask for gifts or have a gift list. Also, couples often feel that they do not need the traditional household gifts, as they already have a house with their chosen items in. However, experience tells us that couples always receive gifts of some sort and many wedding guests seem to prefer something tangible like a gift list to work from, as it makes life easier for them!
We found the idea of wedding gifts really tricky when planning our own wedding. We had decided that we would not compile a gift list, as we did not feel comfortable asking our guests for presents and instead we would kindly request charitable donations if anyone was planning on giving a gift. However, having announced this to family and friends, we continued to be asked what we would like as a wedding present and so this made us re-think our original plan.
So as a compromise, we decided to make a charitable donations on behalf of our guests – we donated to Cancer Research and to Breast Cancer Care, two charities that have affected my family greatly and I have worked with closely, in terms of event fundraising.
We then set up a honeymoon gift list with Trailfinders and informed people of this, and our family and friends were very generous with their donations, which was very kind of them. We were very grateful for such wonderful contributions but we did not want people to feel that they had to contribute, especially as we were not planning on having anything in the first place, so we were very careful with our wording.
The honeymoon gift list with Trailfinders was easy to set up and for guests to access and it seemed to satisfy their wish to give us a wedding gift. It did not seem to discourage people from their original wedding gift plans, as we were so lucky to receive a whole array of wonderful wedding gifts other than the honeymoon contributions, including charitable donations made on our behalf, gift vouchers, crockery, an afternoon tea experience, monetary gifts and other wedding keepsakes.
This really was overwhelming and as soon as we got back from our honeymoon, we spent each evening for two weeks ensuring that we wrote personalised thank you notes to all of our family and friends to show them how grateful we were for their kindness. 
*Gift List Information*
It is often been deemed bad wedding etiquette to send out gift list details. This is still a very split issue with many wedding traditionalists firmly stating that gift list information should not be sent with invitations, whilst many contemporary wedding experts stating that it has become so common that this is now an accepted wedding norm. If you are undecided, an alternative way to inform people would be to include your gift list information on your wedding website.
*The Gift List*
When selecting your gift list, it is definitely worth considering the following:
* Budgets – Your list should include a wide range of prices, so that family and friends do not feel uncomfortable.
* Choice – Ensure there are a wide selection of items on the list, so guests do not feel restricted. You could select items from a range of categories  i.e. something sophisticated, something practical, something pretty etc or combine a gift list with a honeymoon fund or gift vouchers. Or have one ultimate combination gift list.
* Delivery – Traditionally, wedding gifts would be displayed on the gift table. You therefore need to think about whether you want gifts delivered as they are purchased, for them to arrive in one go after the wedding or if you want them for the wedding day. If so, you will need to consider how they will get home safely.
* Information – Whichever gift list option you choose, think carefully about the wording of this and how you will inform your guests.
* Personalise – Choose items that reflect your style as a couple, so that your family and friends will be delighted to purchase these gems for you.
* Quality – Hand pick items that you will actually treasure and not just send to the tip/charity shop in a few years. Include something to pass onto the grandchildren.
* Thank You's – Ensure you have a list of who has given you what, so that you can personalise your thank you notes.
* Wedding Memories – The Gift List is for your wedding after all, so perhaps include something that will provide you with wedding day memories i.e. photo albums, photo frames, scrapbooks, canvasses, collage frames, memory boxes etc.
*Gift List Wording*
The wording is always a challenge to get right but it is vital to consider the wording carefully to ensure that your guests do not feel that they are obliged to contribute…
*No Gift Specified Wording*
* "It's your presence, not your present, that we want."
* "Please do not feel obliged to give us a gift—all we want is to have a lovely wedding that we can share with you all."
* "Please don't feel obliged to buy us a gift, we just want you to come have a good time with us! However, if you prefer to purchase a gift, feel free to surprise us!"
*Honeymoon List Wording*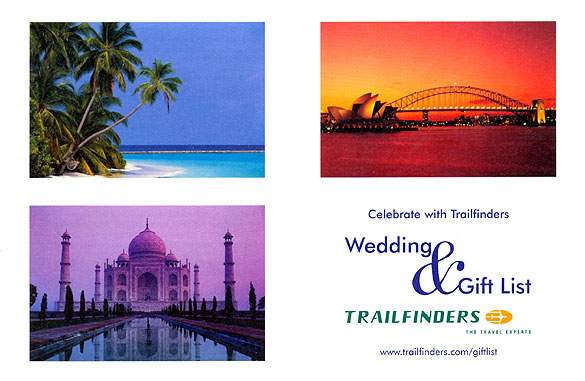 * If you're thinking of giving a gift, to help us on our way, a gift of cash towards our honeymoon, would really make our day. However, if you prefer to purchase a gift, feel free to surprise us in your own way."
* "The most important gift to us is to have you share our day, but should you wish to contribute in some other way, then a contribution to our honeymoon would be very gratefully received."
* "We know it's not traditional, it's not the way it's done, but instead of a wedding list, we'd like a bit of sun. So, if you'd like to give a gift, to help us celebrate, some money towards a honeymoon, we'd much appreciate.
*Gift List Wording*
* "While it's enough of a present that you're coming to our big day, if you'd like to give us a gift we have a gift list at (Gift list registry name) (www.website.com), our gift list number is…"
*Gift Vouchers Wording*
* "Your presence, not presents is all that we require, but if you would like to gift us something to start our married life together, then (High Street Store Name) vouchers would greatly be appreciated."
* " We haven't got a wedding list, the reason we'll explain, we have two of everything, our home is bursting with the strain! So we shall need new furniture, for our new and bigger nest, High Street shopping vouchers or a cheque would be the best. So, if you'd like to contribute, to our soft and cosy rooms. Our heartfelt thanks go out to you with love, The Bride & Groom x"
"We've been together quite a while and have a lovely home, there are not too many items that we don't already own. So if your thoughts were on a gift, your presence will suffice, but if you really feel the need then vouchers would be nice. The choice is really up to you and we would like to say. We hope you come, enjoy yourselves and have a lovely day."
*Monetary Gift Wording*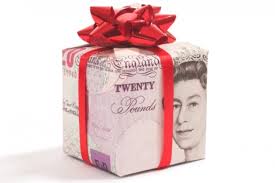 * "We are sending out this invitation, In the hope you will join our celebration.  But if a gift is your intention, May we please take this opportunity to mention, If you were thinking of giving a gift, to help us on our way, A gift of cash towards our house, would really make our day."
* "Your presence without presents is enough to make our day, We haven't made a wedding list of gifts, in any way, Should you wish to give us cash, we surely won't say no, So we can buy the things we like to help create our home."
*Charity Wording*
* "We've decided to set up a charity gift list. If you would like to give a gift, this is a perfect way for our wedding to help others less fortunate than us."
Wedding gifts really can be tricky to consider but the most important things to remember are: to be polite with your wedding gift wording and to appreciate your wonderful wedding guests celebrating with you as the best wedding gift you could possibly receive!
Sparkles,
Klee x