Posted in: Decor & Style, Gifts, Pearls of Wedding Wisdom On: June 11, 2015
Today's wedding inspiration is just delightful – unique, shabby chic and beautifully handmade items perfect for wedding decor and wedding gifts.
Couples often ask where they can source unusual wedding decor and wedding guests are always struggling to find unique and personalised gifts for the happy couple.
Fortunately for you lovelies, *Yellowbird Interiors* can solve both problems incredibly well! I just adore the charming pieces that Heather creates and love the shabby chic feel that they have, which would be perfect for a vintage or rustic inspired wedding. Each piece is beautifully hand painted by Heather and has an impeccable high quality finish. Whether it is using a delightful wooden garland for dressing a venue or purchasing a wedding keepsake for the happy couple, each piece is totally bespoke, personalised and unique. Custom orders can be catered for too, if you have specific colours in mind.
I love so many of the *Yellowbirds Interiors* products that it would be impossible to choose a favourite! I think the wedding countdown chalkboards are delightful and would make a great engagement gift idea. I also really love the wooden garlands for wedding present inspiration, as these are such thoughtful gifts that can be displayed in your house after the wedding.
The fabulous range of products for weddings include:
Bridal Party Thank You Stars | Customised Orders | Mr & Mrs Garlands | Name Garlands | Personalised Keepsake Hearts | Wedding Countdown Chalkboards 
To see the full range of products on offer, please see *Yellowbird Interiors Shop* 
For personalised items, please contact Heather through her *Facebook* or *Twitter* pages.
The lovely Heather of *Yellowbird Interiors* has kindly provided today's *Pearls of Wedding Wisdom*
*How did Yellowbird Interiors begin?*
I started up Yellowbird Interiors back in 2012 as a little project based on my hobby & interests as a way to save a little bit of money to go on Holiday, but since then it's grown into so much more & become a real passion, something I hope to always continue.
*Where do you get your inspiration from?*
I see things that inspire me everywhere I go, a colour combination in a bunch of flowers or a pattern that really catches my eye, I generally create items that I love myself and want to share. But probably one of my biggest inspirations would be my customers! I listen to what they say they like & try to create products with their ideas in mind!
*Please describe Yellowbird Interiors in three words*
Passionate, Personal & Inspired
*What different materials do you use?*
I mostly work with wood, I used to make a lot of fabric items and also up-cycle furniture as well but my orders for painted wooden products have now reached such a volume that I focus solely on those now.
*How can Yellowbird Interiors feature at a wedding?*
I create a number of items that can be used for weddings, mostly my Personalised Hanging Hearts which make great gifts for members of the wedding party & my countdown Chalk Boards which are really popular with the Bride to Bes. I also create Garlands which can feature couples names or surnames that have been used as Décor for the venue, and am also working on new Mr & Mrs Garlands at the moment.
*Which of your products could be used as wedding decor?*
My Name Garlands are great décor for Top Tables or wall decorations, they can feature Couples names or say Mr & Mrs and I have recently introduced a new product which consists of large hanging hearts spelling out the couples Surname.
*What items do you have that could be used as a wedding present?*
My Keepsake Hearts have been extremely popular, featuring the Couples married name and the Wedding Date then painted in the customer's choice of colours, these have been a really big seller so far this year.
*What items would you recommend for wedding keepsakes?*
As well as the Mr & Mrs Keepsakes I also do similar hearts, and also Stars, for members of the wedding party. These make great Thank You gifts to hand out on the day and can be designed to suit any role, such as Bridesmaid, Flower Girl, Maid Of Honour, Page Boy etc.
*How can your lovely range of items be personalised for each couple?*
All of my Items are made to order so can be painted in the customer's choice of colours, Date & Names can be added and if there is a specific something they'd like to say then I work with my customer to create & design an item unique to them if they so wish.
*How far in advance of the wedding should couples order their products from you?*
I say to try and order at least 2 weeks in advance and to inform me if the item is needed for a specific date, However the more notice you can give me the better as my customer list is growing every day.
*Does deliver cover the UK and how much roughly does this cost?*
I charge £3.50 for delivery, this covers UK delivery and the item is wrapped safely, for an additional £1.00 I also offer a gift wrapping option if the item is a present. I've also done International postage, this is individually calculated depending on destination.
*Apart from wedding inspired items, what other products do you create?*
I have a vast selection of Items that's forever growing, I have so many new ideas I sometimes can't keep up with myself! One of my most popular items are my Name Garlands, these again are painted in any colours and come in a great variety of shapes with lots of different added extras so that the customer can create a really personal item.
I also offer a really unique take on the Family Tree in the form of a Garland, as well as lots of great little Gift Ideas, wooden signs, a beautiful selection of Nursery Décor and a fantastic array of Christmas Decorations.
A huge thanks to the super talented Heather at *Yellowbird Interiors* for providing today's *Pearls of Wedding Wisdom*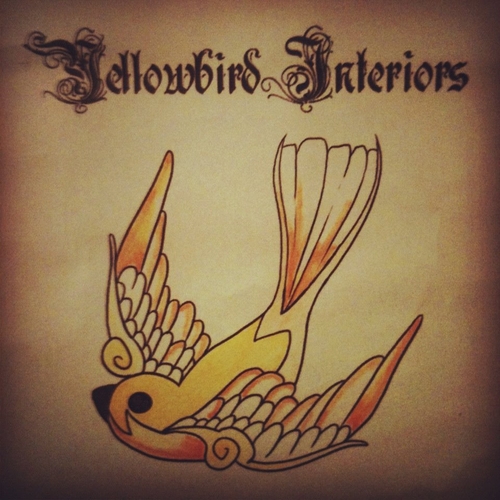 *Contact*
*Website: www.yellowbird-interiors.co.uk
*Email: yellowbird_interiors@yahoo.co.uk
*Social Media: Facebook Instagram Pinterest Twitter
Sparkles,
Klee x